Want to have reheated food keep its fresh flavor? Would you like to retain the nutrients in your food when heating? Want to make a delicious loaf of homemade bread and other baked goods? Then a steam oven is the appliance you need.
These modern high tech steam ovens can steam and bake at the same time, making your food moist and delicious. These steam ovens are great to use in hot summer weather as they don't heat up the house.
Here is a countdown of some of the best steam ovens available for sale presently, to help you choose which one most fits your needs.
10. Cuisinart CSO-300 Combo Steam/Convection Oven, Silver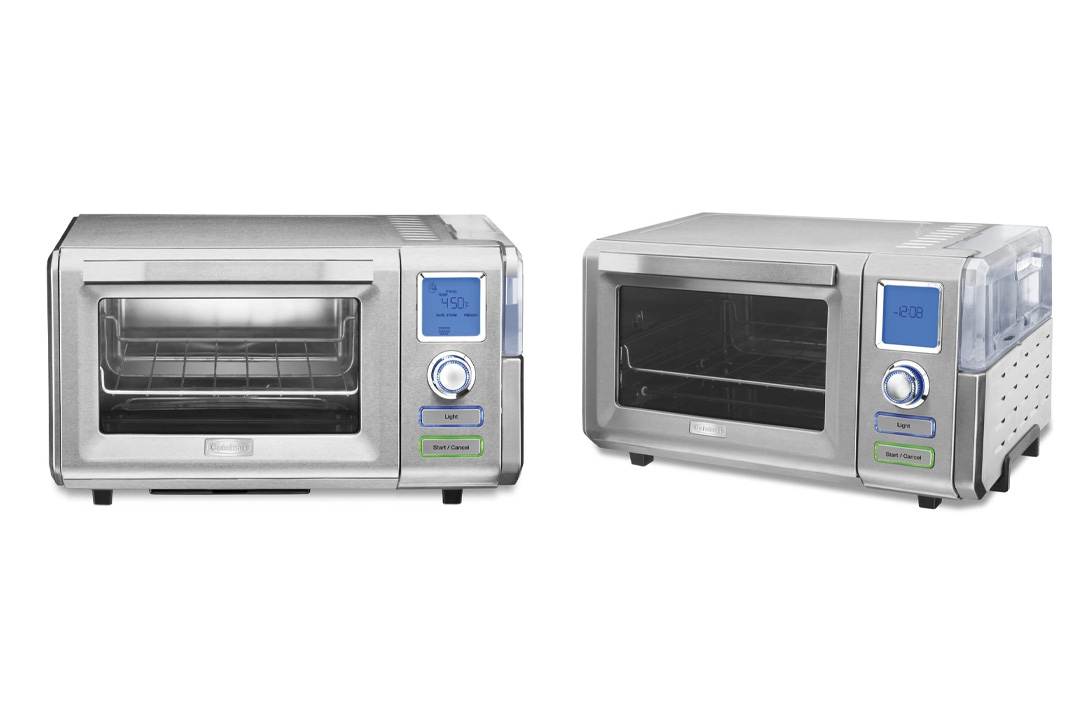 Get it now on Amazon.com
The silver stainless finished Cuisinart steam convection oven provides 120 minutes of steady steam heat. Using special bread proofing technology, your bread will bake better and more quickly. This Cuisinart model has unique steam bake and steam broil functions as well as the functions of a regular toaster oven. This oven is large enough to hold either a 12 inch pizza, a 13×9 baking pan or a 4 1/2 pound chicken. Working well for reheating food, this steam oven does not dry it out. Included with this Cuisinart Steam Convection oven are: a removable 47 ounce water reservoir, a wire rack, a baking pan, a broiling rack, a crumb tray, and a drip pan. This steam convection oven preheats quickly and bakes in less time than a regular oven. Reviewers like the option that you can steam and broil at the same time, retaining moisture in foods. The Cuisinart steam oven does take up counter space though; and the steam is vented out the back of the oven, allowing moisture to collect on the wall behind.
9. Steamo Steam And Grill Oven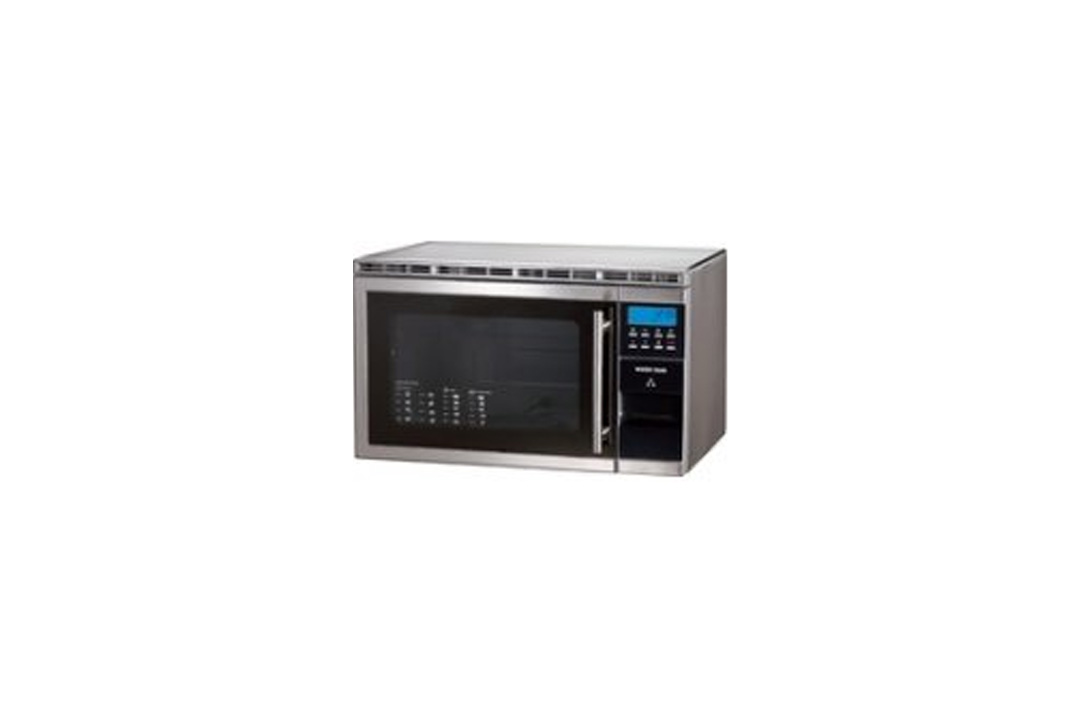 Get it now on Amazon.com
The Steamo Steam And Grill Oven with grill has 18 cooking modes. This steam oven can even defrost food well. The stainless steel interior of the Eurodib steam oven makes it easy to clean. The LCD display is easy to see and understand. Features that come with theSteamo steam oven are: a timer, an alarm, a safety lock and removable water tank. Also included are: 2 stainless steel racks, a nonstick pan, a solid tray, and a pan holding handle. Reviewers were pleased that this oven releases steam through the front grill vents.
8. Breville BOV845BSS Smart Oven Pro Convection Toaster Oven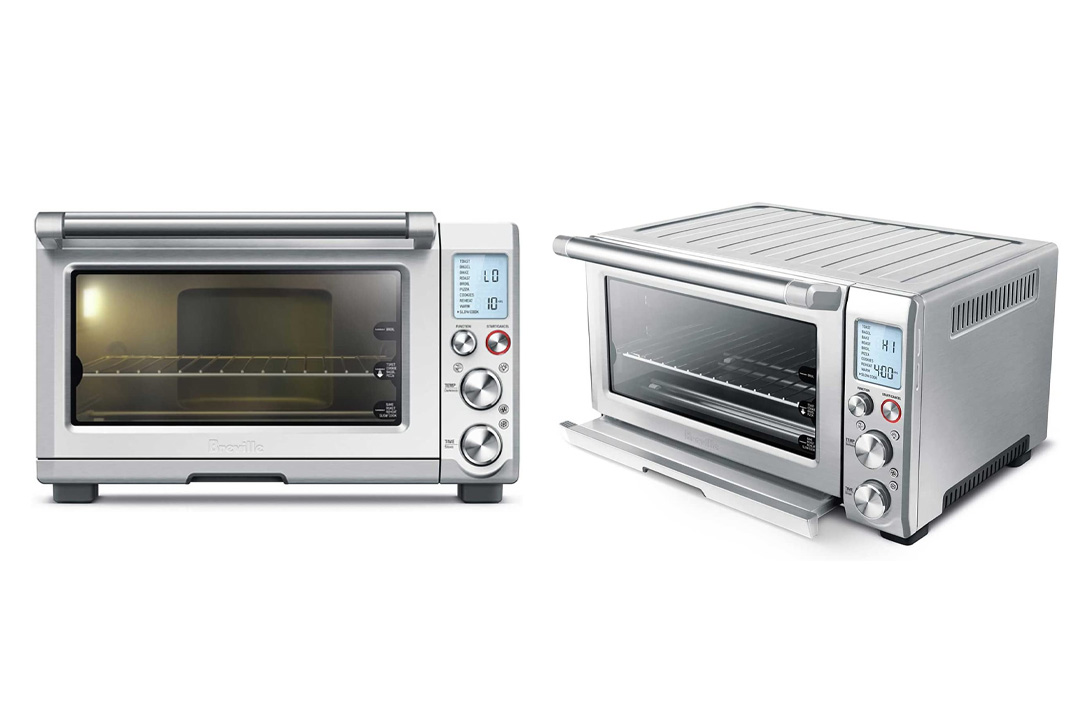 Get it now on Amazon.com
This silver stainless Breville Smart Oven Pro convection toaster oven uses Element IQ technology which provides very accurate baking, as the heat is adjusted to when, and where it is needed most to bake evenly. Featuring 10 preset functions, the Breville smart oven even has a slow cook function, to cook a long time at a low temperature. This Breville model is large enough to hold a 3.5 quart Dutch oven with lid, bake a 13 inch pizza, or toast 6 slices of bread. A convection fan gives fast and even cooking; and the interior oven light is handy to see how baking is progressing.
Included with the Breville Smart oven are:
a 12×12 enamel baking pan
a 12×12 enamel broiling rack
and a 13 inch nonstick pizza pan.
This easy to use Breville oven does take up counter space though, and the fan is somewhat noisy.
Watch Video:
7. Breville BOV800XL Smart Oven 1800-Watt Convection Toaster Oven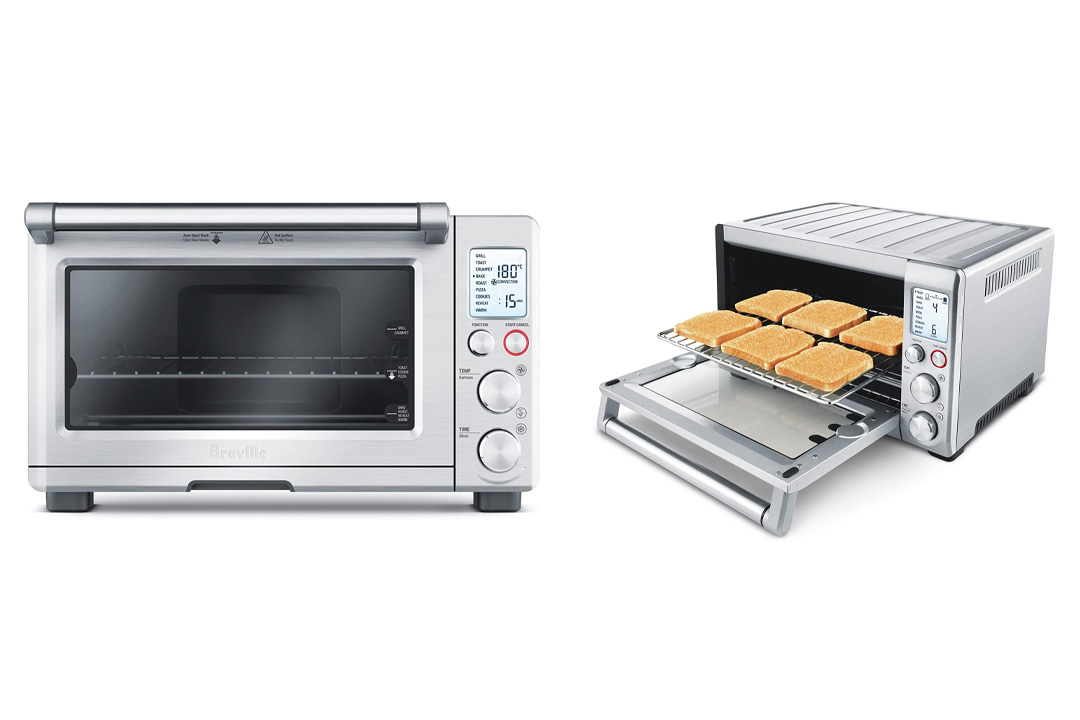 Get it now on Amazon.com
The silver stainless Breville Smart oven toaster oven offers the Element IQ technology, which automatically adjusts the heat for perfect baking. Several preset functions are included in this oven: bake, broil, roast, reheat, toast, warm, pizza, bagel, and cookies. An LCD light, user friendly control panel, 3 rack positions, an auto eject wire rack, and crumb tray are featured in the Breville smart oven. With a durable nonstick interior this oven is easy to clean. Included with the Breville Smart oven toaster oven are: a 13 inch pizza pan, a baking pan, a broiling rack, and an instruction book with recipes. This oven is efficient and fast, taking less time to preheat and cook and keeping your kitchen cooler. Reviewers like the auto shut off feature and sound alert. The top of the oven gets quite hot though, and the 3 foot cord isn't quite long enough for some consumers.
6. Cuisinart Steam & Convection Oven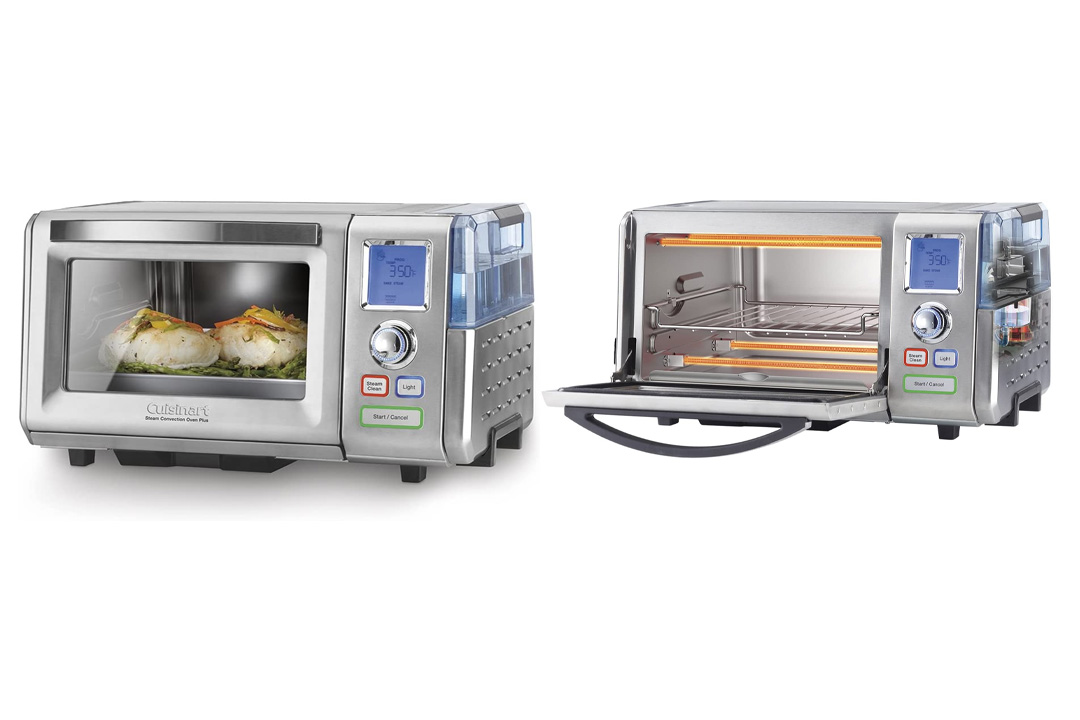 Get it now on Amazon.com
The brushed stainless steel Cuisinart steam and convection oven are efficient and fast. Steam heat cooking can decrease cooking time by up to 40 percent. With nine functions on the Cuisinart steam and convection oven you can bake bread, bake and steam, broil, broil and steam, steam, super steam, keep warm and bake/convection. With simple controls and a reliable timer, baking is quick and handy, This easy to clean steam and convection oven is made in China. Reviewers found this oven to work very well for bread baking, but with this Cuisinart model included 2 oven racks.
Watch Video:
5. Wolfgang Puck Pressure Oven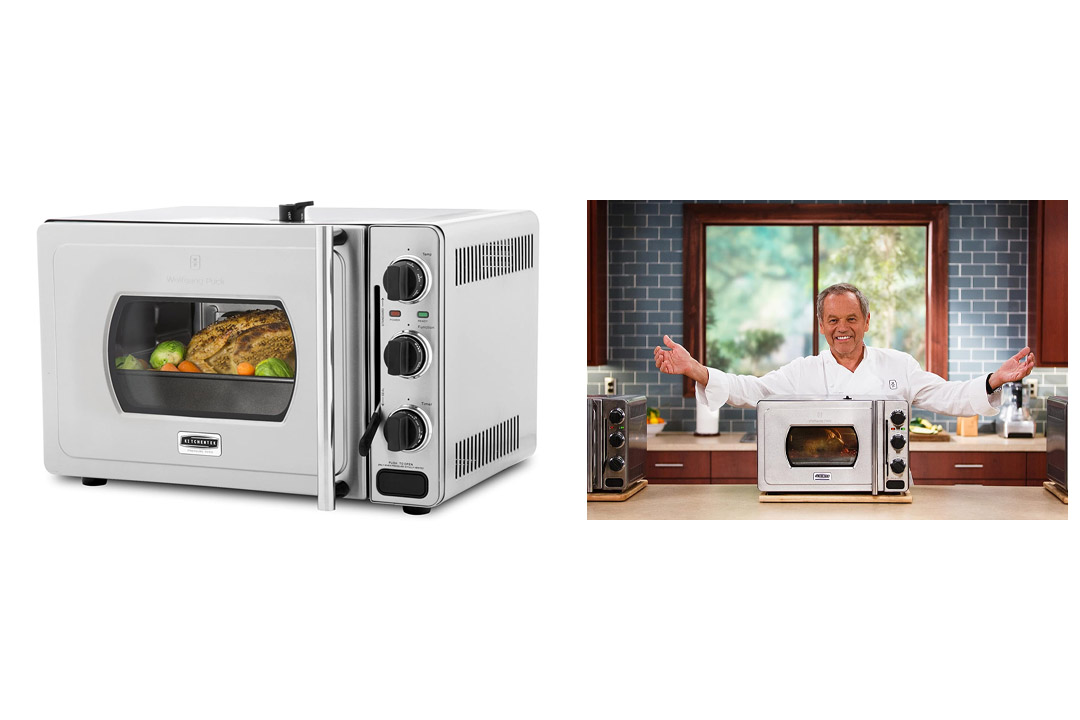 No products found.
The Wolfgang Puck pressure oven by Kitchen Tek has new Flavor Infusion technology for faster and more flavorful cooking. This pressure oven cooks up to 70 percent faster. The 5 functions include bake, roast, broil, toast, and warm. No rotisserie option comes on this Wolfgang Puck oven though. Sealed like a pressure cooker this oven locks in moisture for juicier cooking. Conveniently sized to fit on the countertop, this pressure oven is large enough to cook a 14 pound turkey or 13 inch pizza. Included with this Wolfgang Puck pressure oven are a roasting pan, a drip/bake pan, a broil rack, a crumb tray, a recipe booklet, and a user's guide booklet. Reviewers found this oven to cook well but felt the oven racks could be made stronger as they bowed under heavy pans.
4. Oster 5712 Electronic 2-Tier 6.1-Quart Food Steamer, White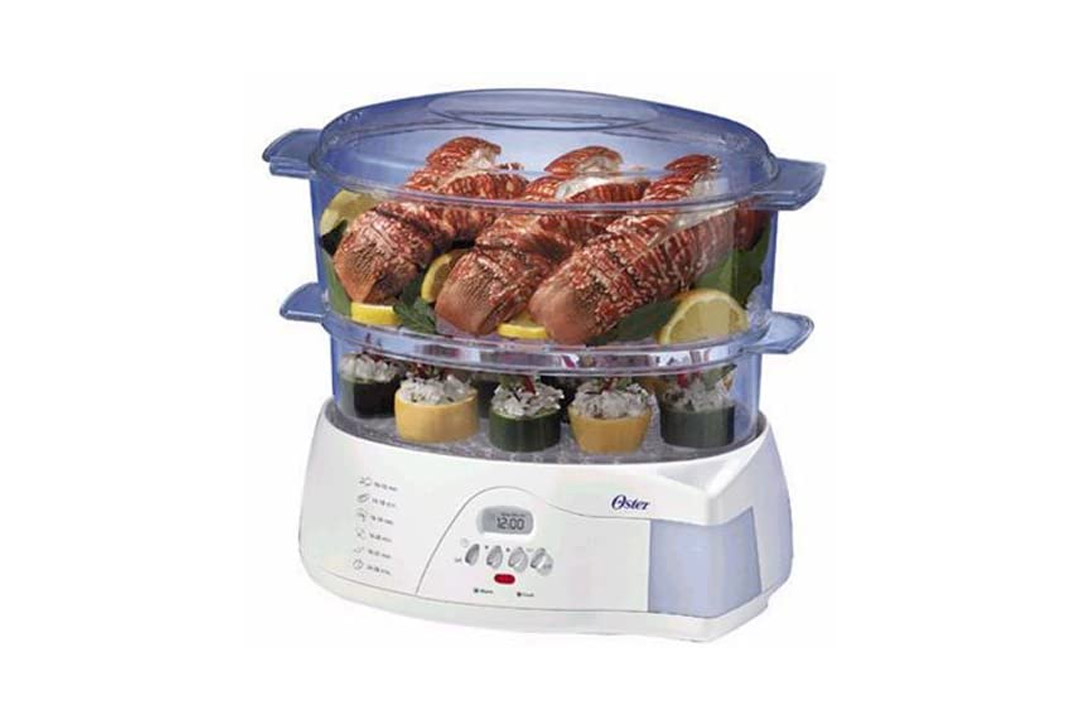 Get it now on Amazon.com
The white plastic Oster Electronic Food steamer is an efficient small steamer, with a 2 tier 6 quart capacity which provides instant steam. Features included are: a 12 hour delay cooking, LCD display with timer, and auto keep warm setting. This Oster food steamer has an see through external water fill system and fully collapsible steaming trays. Included with the Oster Electronic food steamer are: a 3.8 quart and 2.3 quart steaming bowls, a manual, a recipe book, and 8 egg holders. This Oster steamer is built to North American Electrical Standards. This easy to clean food steamer is flexible and fast. Some reviewers were disappointed this steamer does not seem to be made of BPA free plastics.
3. LG LCRT1513ST Countertop Microwave Oven, 1100-watt, Stainless Steel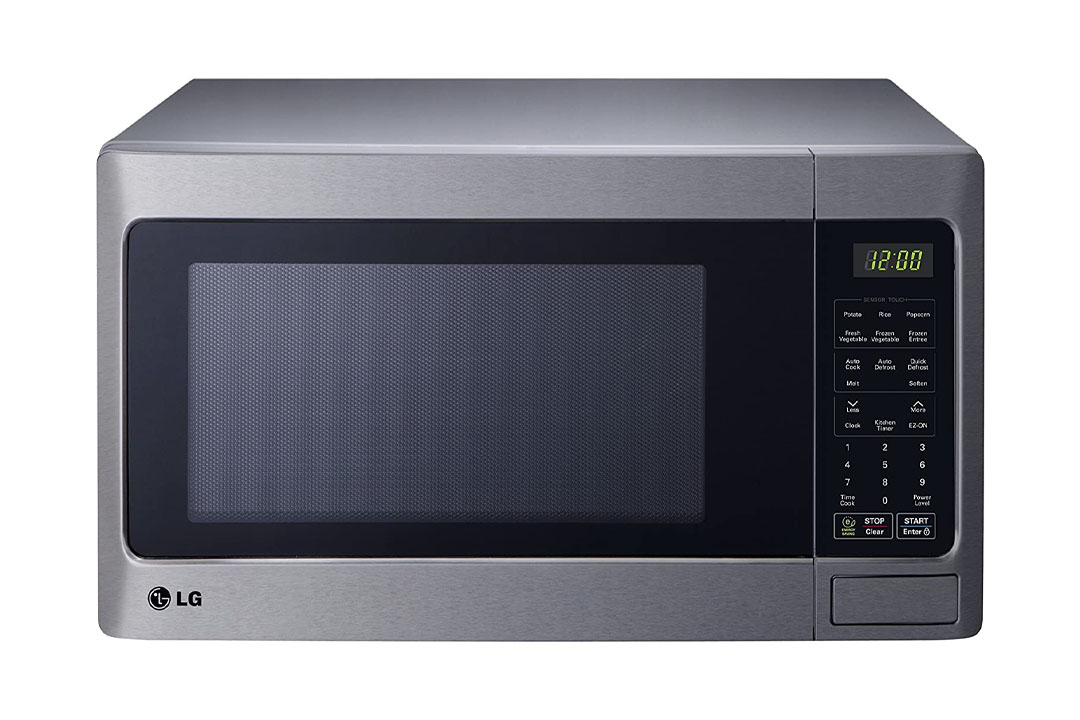 Get it now on Amazon.com
The LG LCRT1513ST Countertop microwave and baking oven also has pizza oven capabilities. This small Combo is two kitchen appliances in one. With a capacity of 1.1 cubic feet, and a 1000 watt microwave and 1400 watt pizza oven, this makes a great appliance for home kitchens as well as college students. The easy to clean coating makes cleaning simple and fast. This versatile LG Combo features 4 reheat settings, 3 auto defrost choices, 2 quick touch cooking settings, 4 auto pizza cook settings, 4 baking choices, and 10 power levels. This family friendly LG oven has a child lock as well. Included with this oven are a nonstick pizza pand and a glass plate. Some reviewers found this oven does require time to preheat and is quite small.
2. Panasonic NN-SN966S Countertop/Built-In Microwave with Inverter Technology, 2.2 cu. ft. , Stainless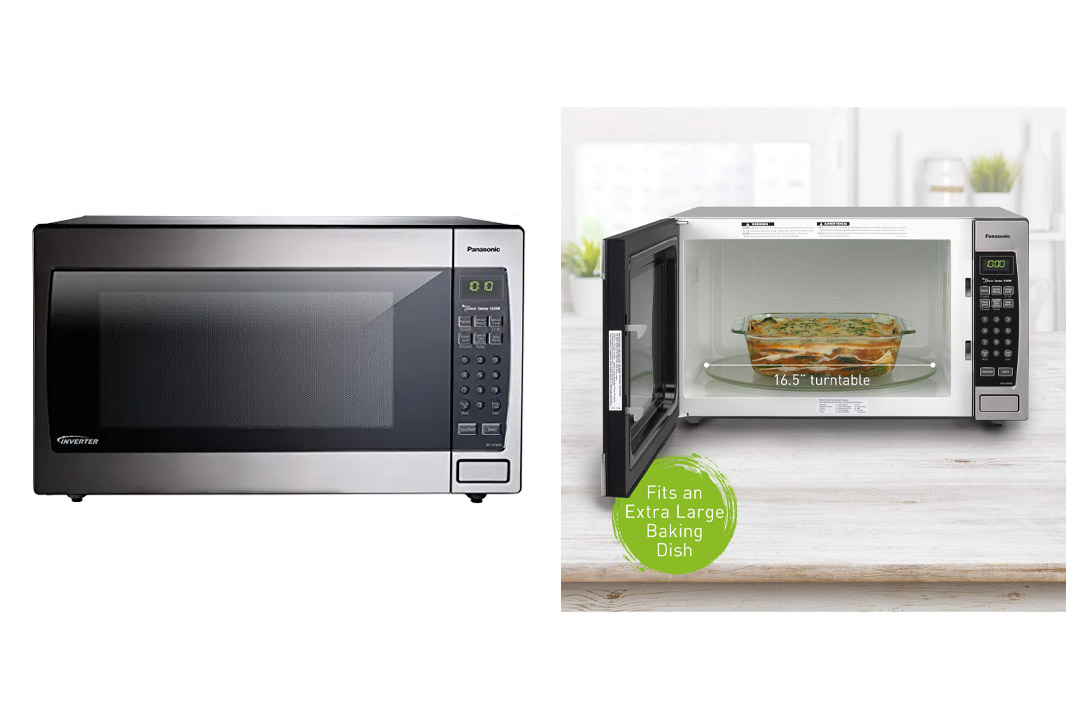 Get it now on Amazon.com
The stainless Panasonic microwave with inverter technology can be left on the countertop or built in the cabinets. This luxury full sized 2.2 cubic feet microwave uses Inverter technology to consistently cook food. This microwave comes with one touch sensor cook, keep warm button, and touch reheat features. Reviewers felt the display of cook settings needs improvement, as well as the door latch needs improvement to close properly.
1. KitchenAid KCO273SS 12″ Convection Bake Digital Countertop Oven – Stainless Stee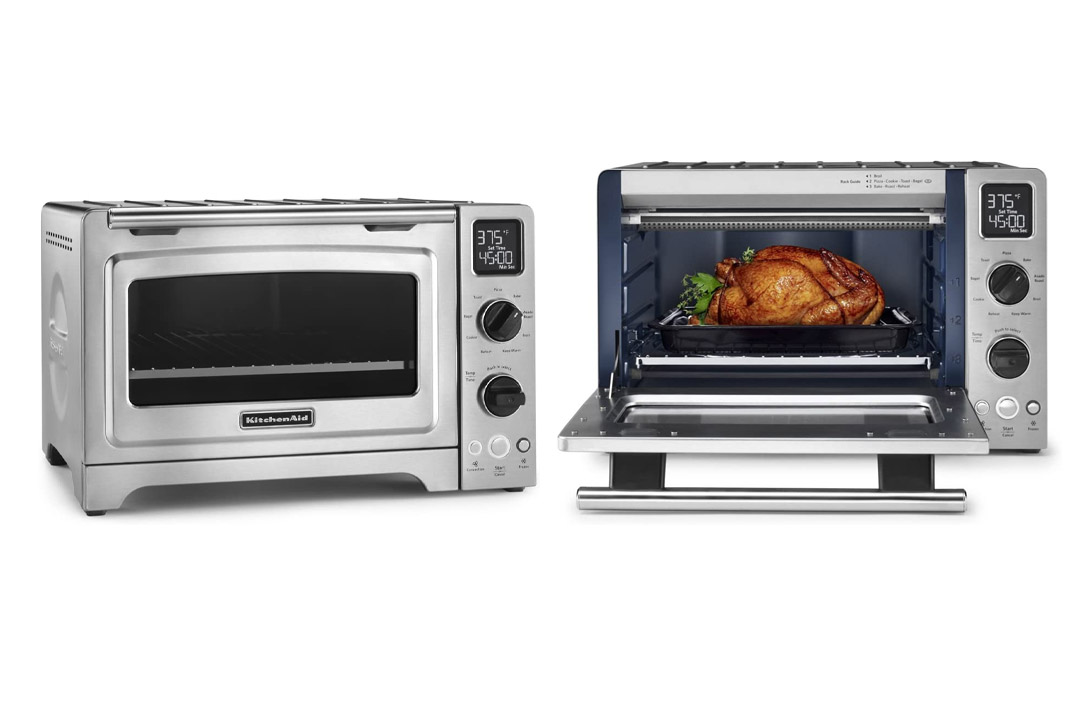 Get it now on Amazon.com
The stainless steel Kitchenaid convection bake countertop oven works like a full size oven. This Kitchenaid convection oven can bake, do pizza, roast, toast, broil, bake cookies and bagels, keep food warm and reheat. With a digital timer and 12 inch capacity, this oven provides superior performance. With a nonstick interior, this convenient oven is easy to clean. Most reviewers are pleased with the performance of the Kitchenaid convection oven.